monitors
ViewSonic VP2770-LED Review
For professionals who need good color and high resolution, this expensive display is a solid choice.
$500.00 at Amazon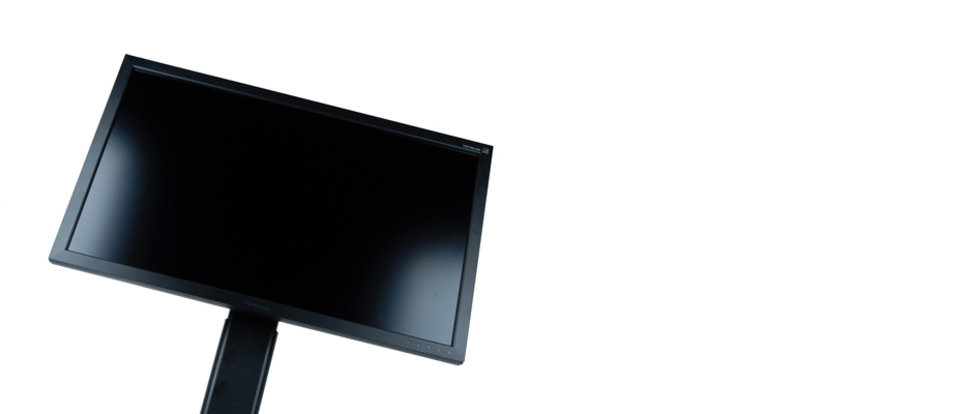 Overview
The VP2770-LED (MSRP $1229) is a high-end computer monitor manufactured by ViewSonic. According to the company's own website, the VP2770 is a "professional grade monitor for pros," meaning its target audience is primarily professional/serious graphic designers, digital photographers, video producers, architects, etc. The VP2770's large screen, IPS panel, and native 2560 x 1440 WQHD resolution peg it as a potentially perfect choice for any serious use requiring accurate colors, tons of screen real estate (by pixel), and a generous viewing angle. It's a little too pricy to be a general use, business monitor, and its 12ms response time means it's a poor choice if your goal is lag-free gaming.
Our tests pulled back the color curtain: The VP2770-LED is a top-notch performer, and looks to be a great companion to professionals requiring a high resolution and/or sRGB-compliant color detail. This monitor is easy to set up, easy to figure out, and designed in a positively industrial fashion. We highly recommend it—the only drawback is the high price.
Design
An expensive display with the design to match its price tag
The VP2770 is well designed from an ergonomics viewpoint, but from an aesthetics viewpoint, it's purely industrial. Computer monitors have yet to imitate the wilder appearances donned by televisions in the last couple of years, but some of them do approach an interesting design from time to time. The VP2770's main visual attractions are its three-footed stand and its thin-bezeled panel. The stand takes up a larger surface area than more traditional pedestals, but we think it's eye-catching in a good way, and balances the panel well.
"The VP2770 has all the trimmings and flexibility than an $800 display should."
Good balance is a necessity here: The VP2770's panel is ergonomic and multi-jointed, making for good flexibility. The panel swivels upon the stand, rotates to portrait orientation, raises/lowers by 5.3 inches, and tilts forward/back by 20°. This monitor's port connections offer an above-average amount of options to consumers. Where low-end monitors typically only feature inputs for VGA (D-Sub) and DVI-D, the VP2770 adds HDMI, DisplayPort, and a full USB hub to the list. The panel's flexibility is a welcome addition here, as the ports—located along the bottom side of the display—are much easier to access after raising the screen and rotating it to portrait.
The VP2770 is designed with both form and function in mind, and has all the trimmings and flexibility that an $800 display should.
Features
Very responsive and intuitive
A long time ago, in a Design section far, far away, we mentioned how flexible and industrial the VP2770-LED's design schema was. Well, that same level of usability also carries over to its feature set. ViewSonic's touch-button controls are very easy to use, responding well to simple taps. They make menu usage considerably easier than on some more obtusely-engineered monitors: The 1 button brings up the menu, and the 2 button makes selections. The intuitive Up and Down arrow keys can be used to navigate the menu.
"This menu isn't terribly expansive, but everything works the way it should."
The on-screen menu is quite simple for such a high-end display, but I think it works out for the best. From top to bottom, the menu allows for: Auto Image Adjust; Contrast/Brightness; Input Select; Audio Adjust; Color Adjust; Information; Manual Image Adjust; Setup Menu; and Memory Recall. Most of these are fairly self-explanatory.
This menu isn't terribly expansive, but everything works the way it should. We have no complaints.
Performance
A terrific performer
If there's one thing this monitor is branded heavily for, it's performance. The VP2770 should provide accurate, sRGB-compliant color for a wide array of professional uses—fortunately, it does. Our color integrity tests revealed that the VP2770-LED lives up to its branding, offering an accurate and vivid color palette in adherence with the sRGB standard. This monitor has perfect, flawless color temperature, evenly ramping greyscale/color curves, and a very accurate color gamut. We could hardly ask for a better result.
"We could hardly ask for a better result."
The VP2770 did not score terribly well during our contrast test, but its contrast ratio is not too narrow for intended use—just too narrow for films, gaming, etc. For what it's meant for, a brighter black level is not going to interrupt the work of editors, architects, etc., even if it will mar the integrity of shadow scenes in movies. This is something to keep in mind, though, if you need film-grade black levels for a particular task.
Conclusion
While too expensive for the general public, the VP2770-LED is a professional's dream.
Forgive us for a touch of cynicism, but we've tested a number of displays claiming to be "professionally engineered" that then turned out to have major flaws in color adherence, or in some other area pertaining to regular, professional use. The VP2770-LED does what it claims to do, however, and frankly, it's a relief. The menu and controls are easy to use, and quick to respond to touch. The stand adjustments are firm without stiffness, granting users a lot of viewing flexibility. And most importantly, the VP2770's color integrity is great.
There's really no reason not to buy this monitor—except for the $1200 price tag. If you need a monitor like this for a career that makes color accuracy or WQHD resolution a necessity, however, the ViewSonic VP2770 is a great choice.
Our editors review and recommend products to help you buy the stuff you need. If you make a purchase by clicking one of our links, we may earn a small share of the revenue. Our picks and opinions are independent from any business incentives.