monitors
LG 34UM95 UltraWide Monitor Review
Top-tier performance and stellar features, with a price to match.
$999.99 MSRP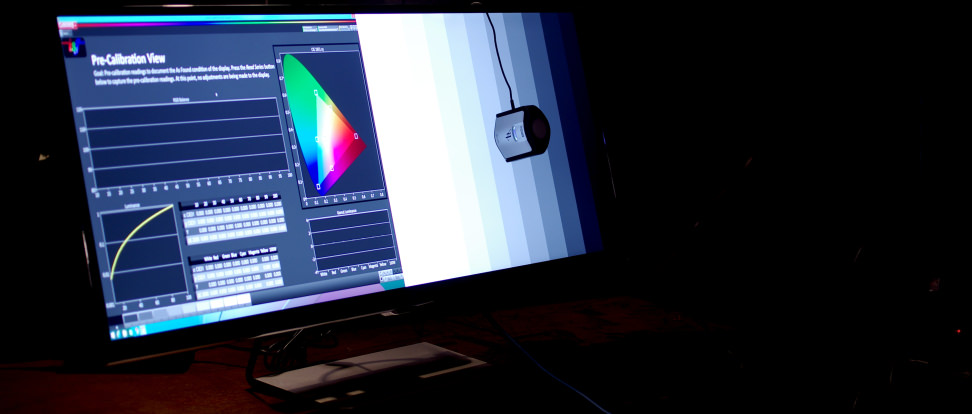 The LG 34UM95 (MSRP $999) is a 34-inch, UltraWide (21:9 aspect ratio) monitor that boasts a huge 3,440 x 1,440 resolution. It's also probably one of the more eccentric new displays on the market, both in appearance and functionality.
With a ton of forward-thinking features that could potentially work wonders for power users, it's no surprise that the 34UM95 received a "Best in Show" award recently during CE Week. My time with this display, both in the lab and on the desk, revealed a winning mix of performance, design, and features that justify this LG's steep price tag.
Obviously, this monitor isn't for everyone. If you're looking for something basic for browsing the web or watching Netflix, you don't need this LG. If you're in the market for top-tier, however, the 34UM95 has a laundry list of special features that benefit a multitude of use cases, both professional and otherwise.
The Look & Feel
This monitor stands out, and not just because it's ultra wide.
If you're not familiar with ultrawide (21:9) displays, they can look a little strange at first. Imagine tacking a few more inches onto either side of your desktop monitor, but not adding anything at the top or bottom. It creates a squashed, elongated look—but make no mistake, you're actually gaining in viewing area compared to the traditional 16:9 aspect ratio.
The stand makes the panel look like it's floating in the air.
Fortunately, the LG 34UM95 stands out for better reasons. Pristine, brushed silver highlights the stand and rear of the panel. LG refers to the stand design as "crystal float" because it makes the wide panel look like it's floating in the air above the flat pedestal. In reality, the firm plastic between the panel and pedestal is simply transparent, causing it to disappear in certain lighting conditions.
I like that all of the monitor's utility elements are hidden, as it emphasizes both elegance and simplicity. You'll find a control stick tucked out of sight beneath the screen, and a comprehensive selection of ports on the back. Here, LG includes two HDMI inputs, a DisplayPort input, two Thunderbolt 2 inputs, a headphone jack, and a USB hub. The panel tilts forward/backward upon the stand, but doesn't change height or rotate to portrait orientation.
There's no shortage of cool features and tricks here, either. The whole menu system is operated via the small control stick below the panel. Users will find it easy to adjust things like color intensity, luminance, or toggle through PBP (picture-by-picture) and PIP (picture-in-picture) modes.
The 34UM95 is geared specifically to function with Apple's Mac Pro.
This is the first time I've seen Thunderbolt 2 inputs in person. A mix of video signal and USB data transfer, the Thunderbolt inputs make it easy for certain users—specifically, Mac Pro owners—to chain together multiple devices into a single awesome power station. In fact, the 34UM95 is geared specifically to function with Apple's Mac Pro, including the True Colour Finder calibration software.
Naturally, LG's multitask-focused ScreenSplit software makes a return here. After installing the proper drivers, you'll be able to split the 34UM95's screen into multiple templates. For example, you can choose from two segregated screens (16:9 and 5:9 side-by-side) to three equally sized screens (7:9 each) to four balanced screens. Even split into quarters, each screen still boasts a resolution of 860 x 360—oh, the possibilities.
The Picture
A rich, colorful world
If there's one thing IPS technology is famed for, it's beautiful colors. The LG 34UM95 lives up to that expectation, producing an accurate representation of the sRGB digital color space, albeit with slightly more vibrant greens than usual. When connected via DisplayPort, the 34UM95 is capable of 10-bit color, meaning it wields more information per color channel than most other monitors. Expect smooth gradation from light to dark hues, without any banding or posterization.
Expect smooth gradation from light to dark hues without any banding.
The other calling card of IPS is image preservation at wider viewing angles, and the 34UM95 passes the test, here, as well. I noted plenty of luminance from highlights and acceptable shadow tone performance, and the contrast is maintained well even at more extreme angles.
Last but not least, I know PC gamers are going to want this display just to see if they can run side-by-side games. Obviously, some performance is linked to your computer's graphical ability and processor speed, but know that the 34UM95 at least won't slow you down. The response times here are a little better than I expected from an IPS display. This isn't a tried-and-true gaming monitor by any means, but feel free to boot up your latest Steam summer sale purchase anyway.
The Verdict
Pixel for pixel, this is great value
A $1,000 price tag might seem ridiculous when there are perfectly good monitors for hundreds less, but when it comes to combining core performance quality and flashy new features, the 34UM95 is currently second-to-none.
Some consumers might gawk at the price, but when you consider this LG's uncanny ability to display multiple sources at once on the same screen, it's kind of like you're buying more than one display. Even without that ability, however, the 34UM95 is a great tool for power users, especially Mac Pro owners, and delivers a truly futuristic experience.
Our editors review and recommend products to help you buy the stuff you need. If you make a purchase by clicking one of our links, we may earn a small share of the revenue. Our picks and opinions are independent from any business incentives.