monitors
Eizo ColorEdge CX240 Review
The high-end CX240 is a terrific performer and a natural athlete—we highly recommend it.
$1,500.00 at Amazon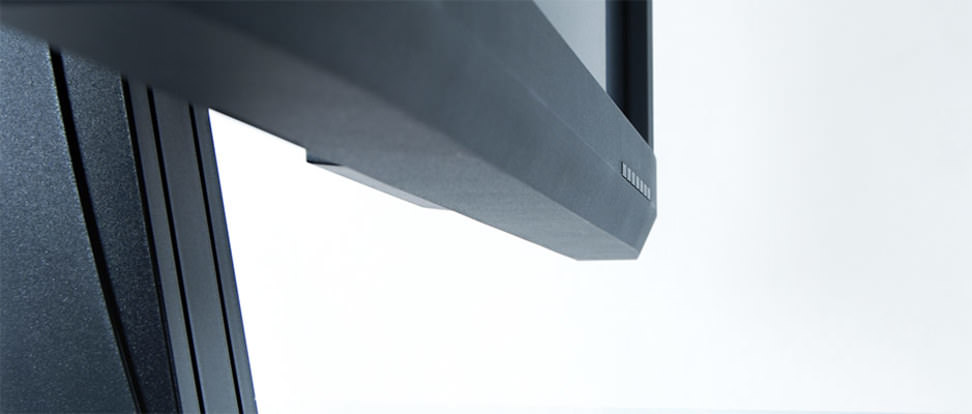 Overvew
The ColorEdge CX240 is a 24-inch computer monitor manufactured by Eizo. The CX240 supports an AdobeRGB color gamut, averaging 97% coverage, and a native resolution up to 1920 x 1200, or 1920 x 1080 when using an HDMI connection.
Specs like these—coupled with a $1,500 price tag—indicate that the CX240 is for serious professionals. This monitor is geared for maximum color accuracy and physical usability. Its target audience consists of graphic designers, video editors, and CAD/CAM engineering specialists, to name a few.
The CX240 comes with a built-in color sensor, but its most interesting feature is also its most obscure: Eizo claims that the CX240 takes 75% less time to "break in" than other liquid crystal displays—taking just seven minutes, instead of the usual half-hour.
Design
It slices! It dices!
Well, okay, it doesn't do those things (unless you try really hard), but the CX240 is nonetheless a very flexible display—and it should be for 1.5 grand. Low-end monitors just sit there and show a picture, but high-end, graphics-intensive displays are expected to jump through a few more hoops. Thus, the charcoal-colored CX240 is engineered to be height-adjustable by about five inches; to tilt backward and forward by 30°; to rotate to portrait orientation; and to swivel 344° upon its base.
"The CX240 is a very flexible display."
Where connectivity options are concerned, the CX240 is just as flexible; again, we expect that at this price. This Eizo's ports are located along the underside of the display panel, in a vertical connection scheme; the easiest way to access them is by raising the panel to full height and rotating it to portrait orientation. Here, you'll find a wide array of source input options: DVI-I, HDMI, and DisplayPort, as well as two USB-upstream and two USB-downstream ports. Compared to low- and mid-tier displays, this one offers more connectivity than we usually see.
Features
The CX240 has a wide array of features to support professionals.
It's clear from the CX240's feature set that it caters specifically to professions like graphic design and video editing. The CX240 works in conjunction with an optional calibration service, called ColorNavigator, to help users calibrate the display to their desired color gamut, color temperature, and luminance. An addition to this service, called ColorNavigator Elements, is meant to help users visually match on-screen content to its printed version, setting luminance and intensity to reflect the appearance of printed color. The CX240's adjustable luminance is very easy to maintain within the monitor's OSD (on-screen display).
The CX240's controls are located on the right-hand side of its lower bezel, and correlate to menu functions that display alongside the menu when the Enter button is pressed. Users can pick from three custom calibration modes, as well as sRGB and AdobeRGB color modes. The CX240's luminance, in candelas per meter squared, can be adjusted between 1 and 300 at will, which makes altering the display for general or specialized use an easy task. The CX240 also contains an integrated sensor that remembers a user's settings, even if powered off or unplugged completely, which means it's a good choice for tasks requiring a portable display.
"ColorNavigator Elements helps users visually match on-screen content to its printed version."
When using a DisplayPort connection, the CX240 displays in 10-bit color at its full resolution of 1920 x 1200. This 10-bit color differs from traditional 8-bit color in that it allows the monitor to display a wider gamut simultaneously, resulting in a smoother overall color gradation (for the record, all of our color tests were conducted using an 8-bit HDMI connection). The CX240 also uses an I/P converter to change an incoming interlaced signal into a progressive signal, resulting in better motion performance overall. Frankly, this Eizo does a lot fresh out of the box, and we're very impressed with its wide feature set and how easy it is to fiddle with all of these settings—no need to read a huge manual, the control scheme makes most setup really simple.
Performance
Holy perfect color, Batman!
The CX240's physical flexibility and unique features wouldn't mean much if they weren't supporting, and giving credence to, the high-end performance they imply. Fortunately, the Eizo ColorEdge CX240 lives up to its name: Its color accuracy is perfect. Our color meter is capable of comparing both sRGB and AdobeRGB color gamuts against their international ideals, determining how close (or, uh, not close) a display gets to its ideal. The CX240 may as well sign up to be a "reference display." Its color accuracy is that good.
"The CX240 may as well sign up to be a reference display."
Our test also looks for errors in color temperature consistency across the greyscale intensity input. Standards dictate that a monitor should come close to an ideal temperature, but we're more concerned with whether it stays close to its average temperature across the output from black to white. The CX240 performs flawlessly, of course, showing no visible or actual error, which is terrific; it's also what we expect at this price.
Perhaps the most impressive aspect of this monitor's performance is its black level luminance, which is considerably darker than almost all of the other monitors we've tested. Within the world of general use office monitors, and even mid-tier displays, contrast ratio (the difference between peak and minimum luminance) is not as important as it is on TVs. However, the CX240 still sports print-friendly brightness and realistically dark shadow tones, giving it an edge over many other graphics intensive displays (such as the recently reviewed ViewSonic VP2770-LED).
Conclusion
Cream of the crop
The Eizo ColorEdge CX240's marketing makes clear, in no uncertain terms, that this is a very serious display for professional use. Our testing has revealed the truth, and we can safely say that the CX240 is just as capable as its design, features, and price tag would have you believe.
This monitor is easy to assemble, intuitive to control, and efficacious in performance. The only "drawback" is its $1,499 MSRP: That is a lot to spend on a monitor, but we feel it's a justified price. The 24-inch screen is also on the smaller side for what you're paying, as there are a number of high-performance 27-inch monitors available for $1,000 or less. That said, an investment in the Eizo CX240 would be a wise one: It performs flawlessly, and has a slew of extra features (including an optional screen hood) that make it worth more than the sum of its parts.
Our editors review and recommend products to help you buy the stuff you need. If you make a purchase by clicking one of our links, we may earn a small share of the revenue. Our picks and opinions are independent from any business incentives.