monitors
Asus PQ321Q Review
The Asus PQ321Q is a professional display, and it acts like one.
$5,249.99 at Amazon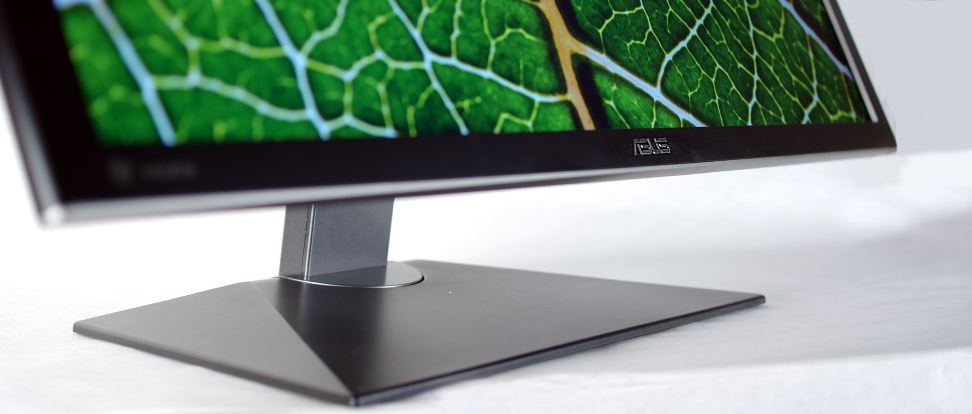 Meet the PQ321Q (MSRP $2,999.99), a 31.5-inch professional computer monitor from Asus. If you're gawking at that big price tag, consider this monitor's strengths: A native resolution of 3,840 x 2,160 (4K), 10-bit color depth, and an IGZO panel.
From a picture quality standpoint, this is one of the better monitors I've ever tested. The new panel technology really shines here, enabling solid color fidelity, rich black levels, and good viewing angles. Unfortunately, it's also naturally limited in scope: The price of entry is a video card capable of outputting at 4K—and $3,000.
It really comes down to how soon you need a 4K-capable display like this, as 2014 will likely see plenty of more affordable options. If time is of the essence, if you can pass the spec check, and if you can pony up the dough, we highly recommend the PQ321Q. Print designers be warned, however: the PQ321Q does not support the Adobe RGB gamut, it lives strictly within the realm of digital color.
The Look
Future-ready features
The first thing you'll probably notice about the PQ321Q is its port selection. Older VGA inputs (the blue ones) have been slowly disappearing from monitors for a while now, but this Asus is the first I've ever reviewed that also excludes a DVI-D input (the white one). Oh, it's also huge.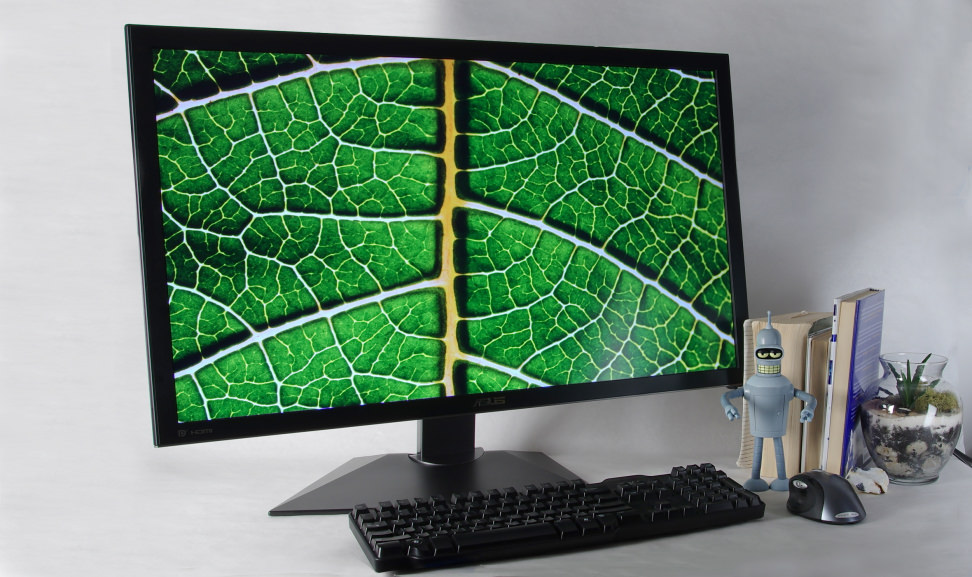 The PQ321Q doesn't have VGA or DVI video inputs.
Looking to the future, Asus instead includes two HDMI inputs and a DisplayPort input—both formats that can carry a 4K signal. Users will also find an RS-232C control port and audio in/out for a PC source. All of the PQ321Q's ports are located in a small cutout on the monitor's left side, while on-set controls mirror them on the right.
A strip of metallic backing along the neck is the most eye-catching design choice. Once the stand is assembled, the PQ321Q's panel can move up/down in height by almost six inches, swivel 45° to either side, and tilt forward/backward by about 25°. Oddly enough, it doesn't rotate to portrait orientation—a common feature of professional monitors. You have to install it that way, screws and all.
For all that, the PQ321Q isn't much to look at. It isn't ugly by any means, but one person's professional is another person's boring. While an angular black design looks good on almost any desktop, the Asus PQ321Q probably won't catch any admiring stares unless it's displaying a beautiful 4K image. Alongside the monitor itself, Asus throws in a DisplayPort cable, quick start guide, RS232 cable, and an optional sticker for labeling the controls on the front of the monitor.
What Is an IGZO Panel?
Indium, gallium, and zinc, oh my!
IGZO stands for "indium gallium zinc oxide," and it's a fairly new semiconductor that allows both TV and monitor LCD panels to be built at higher resolutions.
What differentiates IGZO from older semiconductor types is that it uses smaller transistors—electrical pass-throughs along the conducting material. The actual transistors are smaller than in years past, which allows for more of them. The more transistors there are per inch, the more pixels, and the higher the resolution.
If you'd like more information on the use of IGZO semiconductors in display tech, check out this hands-on article over at PCWorld.
The Picture
Go, Go, IGZO!
The Asus PQ321Q may not have a fancy design or any USB ports, but it's got the goods that count. The IGZO panel isn't just a fancy name or a gimmick: All 8 million pixels look great, right out of the box.
Web designers and architects may want to keep the PQ321Q on their radar as a potential investment. This Asus can output 10-bit color, and it covers the sRGB digital color space, too. Picture modes, including Standard and Vivid, can be swapped with various Gamma settings to get either an exciting, flashy look or something more professional.
I feel I should note again that this display is not capable of the Adobe RGB color standard, something which could be an instant deal breaker for print designers.
Web designers and architects may want to keep this display on their radar.
I measured very solid black levels and a respectable peak brightness, as well. Sound backlight uniformity means a very even picture, and the IGZO panel maintains good picture quality at off-angles.
One place where the PQ321Q won't be welcome is at serious gaming competitions. I ran Skyrim on Ultra settings with the resolution cranked up to 4K, and it looked beautiful.
The PQ321Q is not capable of the Adobe RGB color standard.
Unfortunately, the PQ321Q's 8ms response time is a teensy bit too slow for completely lag-free gaming, and experienced gamers will notice it in more intensive titles like Starcraft or Counter-Strike. There are better choices if hardcore gaming is your bag, anyway.
Worried you won't be able to take advantage of the 4K resolution just yet? Asus has you (mostly) covered, with a side-by-side (picture-by-picture) setting that can display two 1080p images simultaneously. The integrity of the picture quality during this function is obviously lessened, but the ability to run your PS3 side-by-side with your MacBook Air could be worth it, depending on the individual.
The Verdict
One of the best of its kind... for now
The Asus PQ321Q is the first 4K monitor I've had the pleasure of testing, and it's a very impressive specimen. The $3,000 MSRP is hard cheese to swallow—on the other hand, you aren't buying anything less than what's advertised.
2014's 4K monitors are still on their way, and the PQ321Q is here now.
The PQ321Q's only real issue is one measured in millimeters: How soon do you need a 4K monitor? There were many more affordable 4K monitors announced at CES 2014, some even wielding an on-board Android OS. Most of the cows have yet to come to pasture, though, and the PQ321Q is here now.
If you're not interested in showy features, or if you've just got plenty of money to spare, feel free to spring for this monitor. But if you're weighing your money carefully, you may want to wait—we'll be sure to review all the new 4K displays as they become available, and it's always wise to peek at competition before you spend.
Our editors review and recommend products to help you buy the stuff you need. If you make a purchase by clicking one of our links, we may earn a small share of the revenue. Our picks and opinions are independent from any business incentives.