monitors
Asus PB287Q 4K Monitor Review
4K displays just keep getting cheaper.
$649.00 MSRP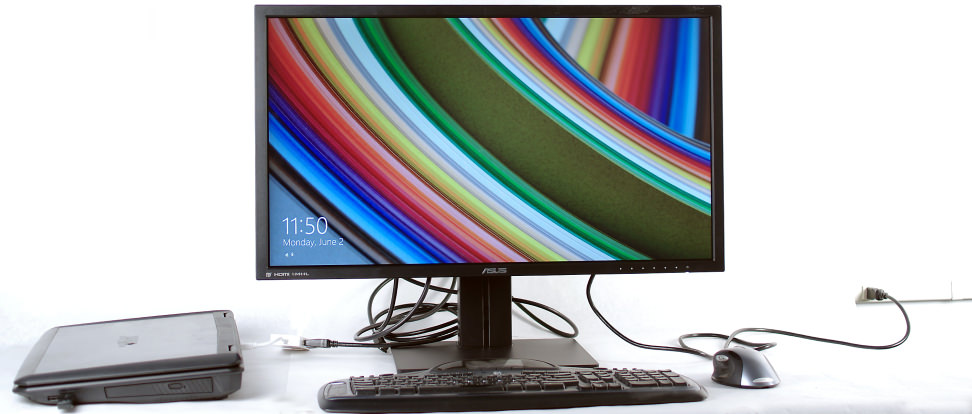 If you've been waiting patiently for 4K monitors to become moderately affordable—less than $1,000—your wait is over.
The Asus PB287Q (MSRP $649) is a 28-inch monitor with a native resolution of 3,840 x 2,160, a 1ms G2G response time, a 60 Hz refresh rate, and 10-bit color depth. That's a lot of gold stars for the price.
So, should you rush out and buy it straight away? Maybe—if you're a gamer. The PB287Q is naturally poised to provide a fast, fluid, lag-free gaming experience—and no competition is going to beat that 1ms response time. But for everyone else, we have to advise that you wait a few months until the rest of the competition's on the field.
Picture Quality
Unimpressive, but very reliable
You might be wondering how Asus gets away with selling the PB287Q for just $650 when last year's 4K monitors generally cost multiple thousands of dollars. It's because this monitor uses a TN (Twisted Nematic) panel, arguably the cheapest type, and last year's crop were mostly IPS IGZO varieties.
The PB287Q doesn't support the color space required by graphic artists and designers.
Your next question is probably, "Oh snap, does it look awful?" Thankfully, no. While the PB287Q lacks in the viewing angle department, it looks just fine when viewed head-on: Colors are vivid and clear, with little to no visible banding.
What's more, the screen's anti-glare coating is fairly mild, which preserves the crispness of all that 4K goodness while combating ambient glare. Disappointingly, the PB287Q doesn't support the wider color space required by graphic artists and designers, but at least it does a solid job with traditional sRGB mapping, thanks to its 10-bit color depth.
A 1ms response time makes the PB287Q a godsend for gaming enthusiasts.
Ultimately, this is some of the better color accuracy I've seen from a TN panel, but it still isn't perfect (check out the Science Page for a closer look).
There is one definite advantage to the TN panel type, however: response time. A 1ms response time and 60Hz refresh rate make the PB287Q a potential godsend for gaming enthusiasts. I took a spin through Skyrim with 4K textures and meshes, and it was a beautiful thing.
The panel's core performance is probably not the strongest we'll see this year, but considering price and pedigree, it's definitely good enough if you've been itching to hop aboard the 4K train. Just don't expect the intense color purity associated with IPS panels or the deep black levels associated with VA panels.
Design & Appearance
More function than form
The PB287Q doesn't really need to look good: It's an affordable 4K monitor with a decent picture, so it could easily skate by on merit alone. To that end, there's nothing really "sexy" about this display—in fact, it exudes an air of asceticism.
Smooth, matte-black plastic, 19mm bezels, and a thin panel depth give the PB287Q a modern appearance. The neck and base lend plenty of flexibility to the panel, too: Users can adjust height, pivot side-to-side, and rotate to portrait orientation. If you'd prefer to wall-mount the PB287Q, go right ahead.
Glowing indicators along the front of the bezel guide your fingers to tactile buttons on the rear. Pressing any button (besides Power) prompts a contextual on-screen display menu, allowing you to select things like the input source, screen luminance, or picture mode. I've read some complaints about this control scheme, but in my opinion it's no more difficult to use than any other.
In a recessed area on the back of the display, you'll find a somewhat limited selection of input options that includes two HDMI 1.4 (MHL-compatible), DisplayPort 1.2, and PC audio in for external speakers. If you don't want to use external speakers, the PB287Q also has a headphone jack and two built-in 2W speakers.
Software & Features
Tricks old and new
As far as extra features and software options go, the PB287Q has no shortage of them. Just like last year's PQ321Q, this monitor's best features—Picture-in-Picture (PiP) and Picture-by-Picture (PbP) modes—help you get the most out of its 4K resolution.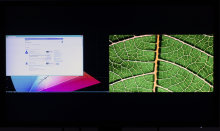 Both of these modes allow you to view two sources simultaneously, with PiP placing a smaller window in the top or bottom right corner of the screen. PbP has a letterbox appearance with black bars at the top and bottom of the display, allowing for two equally-sized windows to display two different sources side-by-side. This ability to display simultaneous sources is one thing that definitely sets the 4K-capable PB287Q apart from non-4K displays.
Browsing the on-screen display confirms that a number of Asus' standby features are making yet another return. For example, the company's "Splendid" modes are in full force. These are easy-to-use pre-sets that optimize the display for various kinds of content and environments. There are eight modes in total: Scenery, Standard, Theater, Game, Night View, sRGB, Reading, and Darkroom.
There are plenty of picture and calibration options in the menu, as well as the usual Asus tricks: ASCR, which gently boosts contrast ratio; EyeCare, which reduces blue light emission; and QuickFit, which fits the screen to various document, grid, and photo pre-sets for editing and mapping. They're all welcome additions, but let's be honest—no one wants this monitor for extra features.
The Verdict
A gamer's companion
The Asus PB287Q (MSRP $649) has many strengths: decent color production, lightning-fast response time, a smart build, and a (comparably) dirt-cheap price. Despite all that, it's not suited for every buyer. Professionals who need a wider color space, for example, are out of luck. And those of you waiting for the best picture quality at the lowest price—give the industry a few months before you throw the switch.
If you're an avid gamer, however, the PB287Q may not see any competition this year. It's already essentially optimized to provide a stellar gaming experience, and the panel's 10-bit color depth eliminates a lot of the color mixing problems commonly associated with TN panels. Just remember that you'll need a fairly powerful graphics card (and the right cables) to max out the full 4K resolution at 60 Hz.
Our editors review and recommend products to help you buy the stuff you need. If you make a purchase by clicking one of our links, we may earn a small share of the revenue. Our picks and opinions are independent from any business incentives.