Games

Introduction
Gamers want the best image quality, but also the most space to play in. A bigger monitor makes for a bigger playground, so game fans should look for the biggest monitor that their budget can bear, and one without high-end features such as calibration. For the best image quality, use a DVI or DisplayPort input, and spend some time tweaking the game display features to find the best balance of eye candy and smooth performance.
An increasing number of games are also now offering support for playing with multiple monitors, which creates a more immersive gaming experience. However, you do need a fast graphics card to support this, as it can double or triple the amount of work that the graphics card has to do. You also need to consider the bezel of the monitor: a thick or large bezel can be very distracting when you put two or three monitors side by side. For more information, see our multi-monitor buying guide.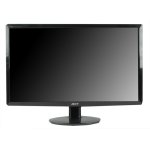 Acer S231HL
Buy now at Amazon
How does this work?
Reviewed.com offers the ability to purchase products through our affiliate programs with retail partners. While we earn a small percentage of the sale, make no mistake that our ethics policy is strongly enforced here, too. You can buy products that have received both positive and negative reviews, because we realize that there's a right product for everyone.
Be in the know! Get Reviewed.com news and reviews straight to your inbox.
Thanks for signing up!